Front-clip, Back-clip or Control (to name a few) – which type of dog harness is the best for your dog? You need to consider breed, size and activity levels to make the right choice.
Why Buy a Dog Harness?
The traditional dog collar and leash can be perfectly fine most of the time, but they do have a down side. They grip your dog by his or her neck.
Any strain or sudden impact on the collar also acts directly on your dog's neck, and not all dog necks were created equal. The smaller dog breeds and young dogs have weaker necks than their full-grown, large-dog cousins. Imagine a dog running full pelt and suddenly the leash pulls tight. All that impact is felt in the neck.
For that reason, we always recommend a harness for dogs being trained using a long line due to the greater risk of sudden neck strain. See our article on teaching your dog to come when you call, every time without fail.
Susceptible Dog Breeds

Small, delicate dogs (known as 'toy' breeds) are particularly susceptible to neck injuries from a collar and lead. Others like the pug are prone to breathing difficulties. These are good reasons to use a dog harness rather than a traditional collar so you can avoid your dog's neck area completely.
Puppies
A puppy's neck is also much weaker than an adult dog's neck. Plus, if the puppy is still a bit 'young and stupid', you gain additional control with a dog harness.
High Activity Dogs

If you like to jog with your dog, you want to avoid any trips or tangles. Highly mobile, on-lead activities are best served by a back-attaching dog harness. The back-attachment keeps the lead well away from everyone's legs.
Is your dog active enough? Check out how much exercise a dog needs.
Dogs in a Car

Using a specially designed harness for dogs is the only effective way to restrain a dog that's too big for a dog car seat. By connecting with the car's seat belts, a harness both controls your dog's movement and protects them in case of a sudden stop. Some harnesses have now been officially crash tested.
---
Dog Car Harnesses
Most of these come in a range of sizes and colors. Click into the Amazon links below for full details and specifications.


---
Unruly Dogs

If your dog is yet to learn good behavior, the extra control of a dog harness might be just what you need to help with your training. Again, you need the right type of harness for the job.
Do you walk with a loose lead?
Have you trained your dog so you can walk with the lead hanging loosely between you and your dog? A harness might be a training aid, but it's not the solution all by itself.
At DIY Dog Projects we know that good dog behavior is not something that you buy, but something that you build. Get help here if your dog is pulling on the leash.
Dog Harness Types
A dog harness differs from a dog collar in that it loops around your dogs torso as well as his or her neck, allowing for a broader distribution of load. It takes the strain away from the neck area.
Working dogs like huskies have harnesses specially designed for pulling, but we'll limit our discussion to the domestic models where you attach a leash rather than a sled.
There are three main types of domestic dog harness, the back-attached, the front-attached, and the tightening. The different attachment methods meet different needs, so let's work through each in turn.
The Back-Attached Dog Harness
Also known as back-connect or back-clip.
In this model, the lead attaches to the harness on your dog's back. This is perfect for tiny dogs because it gives you a great deal of control.
As mentioned earlier, it is also the best model if you want to jog or run with your dog with a lead attached.
However, this type of dog harness can also work against you. If your dog pulls when you walk, the back attachment gives them something to strain against and they like that feeling. It's like playing tug of war with you only pulling forward instead of backward. Remember, you should be able to walk (or jog) with a loose lead.
The back attachment is the only type that should be attached to a seat belt or tether in a car.
---
Dog Harnesses
---
The Front-Attached Dog Harness
Also known as front-connect or front-clip.
In this model, the leash attaches to the front-middle of your dog's chest. This provides some control against a pulling dog. The more your dog pulls away from you, the more the lead will push into their chest and shoulder which results in them stopping or turning more side-on.
The risk with this type of dog harness is that the leash can tangle with your dog's legs, so you need to take some care at first until you get accustomed to it.
Because of potential tangle trouble, this model is best suited to larger dogs where there's simply more distance between their chest and their legs.
The Control or Tightening Harness for Dogs
This is a variation of the front-attached harness that gently tightens around your dog's chest if they pull too hard.
This is a training tool and you don't need it unless your dog hasn't been trained to walk properly and has developed a very bad pulling habit.
With these harnesses, you need to be extra careful with design and fit so it can't actually hurt your dog.
Also, buying one of these won't cure the problem by itself. It's a tool, not a magic fix.  Only proper training solves bad behavior.
When training a young dog, don't use a harness that's made entirely of straps. Instead, select one that spreads the load over more of your dogs body.
One More Type of Dog Harness
This is a little off-topic, but fun. Our research into High Tech Dog Games uncovered one more type of harness. This one doesn't attach a lead, it attaches a camera! Make sure you watch the video to see one in action.
Your Decision?
OK, you now have enough information to decide if a dog harness is right for your dog and which type is best for your dog.
Dog harnesses need to fit correctly or they can chafe or apply pressure to the wrong places. The recommended models below all have multiple adjustment points so you can fit them properly to your dog.
If you need a quality harness, consider the well made, suitably padded, smart looking Journey model from Kurgo. It has both back and front clips, so you can attach your leash to suit the situation. There are 5 sizes available and they all have 4 adjustment points.
The Journey dog harness also comes with a strap for seat belt attachment in the car to control their movement. However, if car safety is your primary goal, you are better off with the crash-tested Impact dog harness.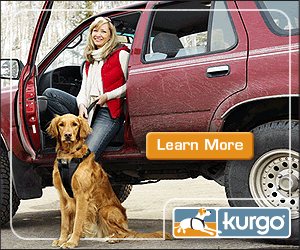 ---
Dog Harnesses
---
Finally, the best way to control your dog is not actually with a collar or a harness or any other physical thing. The best control is having your dog respect you, listen to you and obey you. Winning your dog's mind is the key to making that happen, and at DIY Dog Projects we recommend the easy and simple methods taught by Doggy Dan the Online Dog Trainer, below.